View Shopping Cart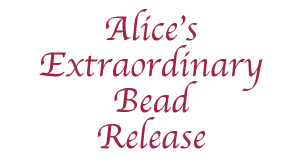 ~ Great for mandrel bead release and priming kiln shelves ~
~ Easy to mix, easy to use, and durable in the flame ~
~ Holds up to aggressive marvering yet releases easily ~
~ Can be flame dried for faster beadmaking ~
~ Dry with a blow dryer for faster kiln shelf drying ~
~ If you haven't tried it, you're working too hard ~

Prices include USPS Priority Flat Rate shipping
within the continental U.S.
---
Hopefully Helpful Hints
on
Using Alice's Bead Release
Mix with water to the desired consistency. Mixes easier if you add the dry to the wet - just enough to get it wet - then add small amounts to thin it to the way you like it. Make sure to reserve some of the powder, in case you get it too thin. Back to the top
If you neglected to save some extra powder - let it sit uncovered for a few days and it will thicken as the moisture evaporates. Also, if you let it sit for a few hours, the water will rise to the top and you can pour some off. If you haven't the patience for either of those, buy some more (My personal preference). Of course by the time it gets to you, yours will be dried out anyway.
Always stir before using - it's heavy so it settles quickly (really fast). Use a whisk to stir it - when it clings nicely to the whisk it will cling nicely to the mandrels.
For bead mandrels it should be fairly thick - like a thick pancake batter. If it is too thin it will "rinse" itself off when you dip. If it is too thick, it will "pull" itself off.
For a smooth and creamy consistency, and eliminate any lumps or grains, mix it in a blender. Leaves a smooth hole inside clear beads. Graininess (little, tiny lumps) can also be "finger sanded" (clever term for lightly rubbing with one's fingers) off the mandrel before starting the bead but this does result in a little difficulty "starting" the bead.
Also handy is a Braun™ hand mixer which is like a handheld blender. If you're using one of these, try not to lift it out of the mixture while it's still running (or try it and find out why). Back to the top
Got mold or algae in your release? It doesn't hurt anything (just mix it in when you stir) but some algae stinks which makes it unpleasant (icky) to use. The contaminant (bad stuff) isn't in the powder, it's in the water. To eliminate the problem use distilled water.
The fresher the "dip" the less chance it will break while marvering - leaving you with a "spinner." If you pre-dipped the mandrels and left them sitting around for a long time (weeks) I recommend that you clean them off (I know it's a pain) and re-dip them.
I usually re-dip after a week or so, especially if I'm making larger beads but several customers have told me that it works fine for them, even when it's old. Maybe the Arizona heat breaks it down faster? It's certainly broken me down faster.
Double dip for a larger hole in the bead. This works best if you let the first coat partially dry (not shiny wet), or dry it with a blow dryer, and then dip the second time.
Hopefully Helpful Hints on
Using Alice's Bead Release for
Kiln Shelf Preparation or
Slumping Mold Release
Stainless steel molds (for slumping/shaping glass) can be dipped (dunked) in the release, for a thick coating. No need to spray or preheat the mold. Dry completely and finger-sand.
If a thin coating is desired, warm the mold in the sun for 15 minutes (depending on the weather) and brush on a watery coating - that's all you need for slumping anyway.
There's no need to heat the mold in a kiln and "fry" the release on. Back to the top
For ceramic shelves or molds, use a thin, watery consistency and two or three coats, crisscrossing (first one direction and then the other) the layers.
Any questions or problems? Talk to me.
Alice
EMAIL
Wholesale in quantity available to qualified retailers.